Page archived. PC Saddles no longer made.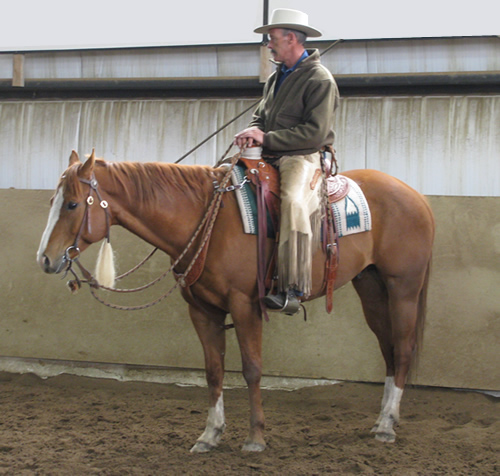 John first met Peter Campbell when they were both teenagers working as wranglers for Warner MacKenzie Outfitters in Banff National Park, Alberta.
For quite some time John had been thinking he would like to have an arrangement with a discerning horseman who had a well established reputation and could represent John's work.
John already knew Peter to be a man of integrity as well as an excellent horseman and renowned clinician. Because of these qualities, Peter was John's first choice.
After the first phone conversation in early 2006, Peter expressed an interest but wouldn't commit until he had a saddle of John's to try first. After a quick consult on what specifications Peter wanted in a saddle, John went ahead and built the first prototype 'Peter Campbell Wade' in May of that year. This saddle was really close; one more prototype later, John and Peter had developed the 'Peter Campbell Wade"
If you have had the chance to meet Peter, you will know that he knows what he wants and why he wants it. As it turns out, Peter was having trouble finding a saddle that would perform to the level he expected and would meet the exact specifications he wanted and because John is a tree maker as well as a saddle maker he was up to the challenge. Peter also wanted to make sure that his students would get the same consistent quality and workmanship when they ordered a saddle that Peter had endorsed.
Due to repeated requests for the same saddle but with a smaller horn, John introduced the option of a slightly smaller horn size in 2008.
In 2011, John added the "Light" Peter Campbell Wade to the list. This saddle was introduced as John was getting many requests from ladies wanting a saddle as light as they could get it. John was able to meet their needs without sacrificing quality or strength.
Since 2006 John has built over 40 'Peter Campbell Wade' saddles, they have gone to customers throughout Canada and the USA.
---
The Peter Campbell Wade
Heart shaped horn, available in 6" x 5 1/2" across, finished (Large) or 5" x 4 1/2" (Medium)
Wyoming Half Double Stirrup Leathers
Flat Plate Rigging, Round Skirts, Hamley style Cheyenne roll
4 "or 5" Stainless Steel Moran Stirrups

---
"Light" Ladies Peter Campbell Wade
Heart shaped horn, 4 1/2" x 4" across, finished
Arizona Stirrup Leathers
In-skirt or Flat Plate Rigging, Round Skirts, Hamley style Cheyenne roll
3 1/2" or 4" Stainless Steel Moran Stirrups
---
Popular Options Available:
Peter Campbell Martengale, Bucking Rolls, Inlaid Padded Seat, Leather Water Bottle Carrier (with water bottle)

All saddles can be customized with carving/stamping options as the customer wishes, quotes available upon request.