---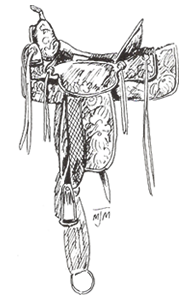 How it all started......
When I was 10 years old, my grandparents gave me a Leather Craft kit. I was hooked right away and started saving any money I could doing odd jobs so I could buy more kits and tools.
By the time I was 14, I was selling custom belts to kids in High School. With the money I made I was able to buy my first truck (1966 Chevy for $700). It was a ranching community and everyone wanted then were belts with rawhide braiding and their name carved in the middle of the back. I made a lot of belts.
Around the same time I learned about a continuing education program at my High School and found out that one of the classes being offered was leather carving from a local saddle maker named Lloyd Miller. This got me in the door of my first saddle shop.
After the continuing education program was finished Lloyd hired me to do whatever needed to be done. Sweeping floors, taking apart repairs.....anything to keep me in the shop so I could keep learning.
I was a town kid and all my friends were ranch kids. I was reading a lot of western novels back then and the cowboy lifestyle was really appealing to me. But I needed some real world experience. Lloyd told me if I wanted to learn about fitting horses I should get a summer job with Warner MacKenzie Outfitters in Banff, Alberta. They had over 300 horses and mules. I was lucky to get the position of Mac MacKenzie's wrangler and put on lots of horse-back miles doing 6 day trips in the Rocky Mountians.
Right out of High School, I worked a winter as a Drillers Helper on a seismic rig in the Canadian Far North. With nowhere to spend my wages they accumulated till the spring when I was able to purchase a saddle stitcher and the necessary tools to start thinking about setting up my own shop. But first I took some road trips to saddle shops across the west trying to learn what I could from any maker who was willing to share. It is the generosity of these men that gave me the leg up I needed to open my own shop when I was 20 years old.
I made my first saddle when I was 16 and except for 6 months as a deer herdsman at Douglas Lake Ranch, I have been a full time saddlemaker for 39 years.